I was once warned by some fellow travellers not to visit Lonavala during the monsoon season. But, for the romantic at heart like me, it is never too tiring to get soaked in the rain. Who does not want to smell the freshness of the moistened soil? If you love rain, then a visit to Lonavala during the monsoon should have a room in your bucket list. It just takes a few days to leave from your office to escape the madness of daily life. And it takes just a few hours to pack a few essential things, and some comfortable clothes to head for a cherishing holiday.
On Reaching Lonavala
You can reach Lonavala in different ways. However, I chose to travel by train. It is cheap, fast, and it gives me the incentive of losing myself to the beauty of the nature that remains strewn here and there. Presently, there are 25 trains that ply from Mumbai to Lonavala. This once again allows you to choose from a number of trains. Also, there are some trains that ply from Pune to reach Lonavala. In either way, you can reach here in a couple of hours. I spent my extended weekend there last year. I had one of the most rewarding times in my life, amidst the greenery, and the lashing rains.
Here's a reference of some of the most breathtaking lakes and water bodies to visit in Lonavala during monsoon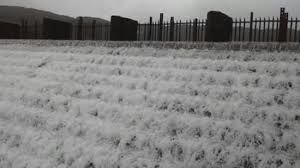 Bhushi Dam

In case it rains excessively, the government might decide to close the Bhusi dam for tourists. But I had the fortune to enjoy the splashing water, and dance in the rain as if no one is watching. It is a treat to see elderly couples reminiscing their youthful days by holding hands, while children are having their happy times. You cannot swim here. Yet, the Bhusi dam has a lot to offer to nature lovers, photo fanatics like me, as well as for fun-seekers. It takes no entry fee to get in. The dam remains open from 9:00 AM to 5:00 PM for the tourists.
2. Pawna Dam-This is another popular weekend gateway and one of the best-known
places to visit in Lonavala during the rainy season
. Honestly enough, I had an impromptu visit to this hidden gem while returning to Pune via Pawana-Kamshet. Fortunately, or unfortunate enough, it is a relatively less frequented place. So if you are seriously looking for some I-me-myself time, Pawna is here to cater to your desire. The road that leads to the dam seems to be adorned with nature's bounty. The place itself is encircled by the forests of Visapur, Lohagad, and Tikona. You actually don't need to have a plan while staying here. Just stroll, boat, and hike near the valleys. And if you are tad adventurous, then you can go for jet skiing or parasailing.
3.
Tungarli Lake
If you expect more than undisturbed tranquility and scenic views, then Tungrali place might not be the best choice for you. It is more prevalent among backpackers and amateur trekkers. The lake is situated on the top of a hillock, which means you will have to walk and climb a little to get there. The serene background has made a place a favourite among photographers and couples. I could see a couple having their pre-wedding photo-shoot done there. Quite romantic! And there is one more thing! With the exception of a few corn-on-the-cob stalls, there is hardly any eatery nearby. So make sure that you pack some dry foods. And do keep the place litter-free.
Now Moving On To The Best Hiking Places In Lonavala: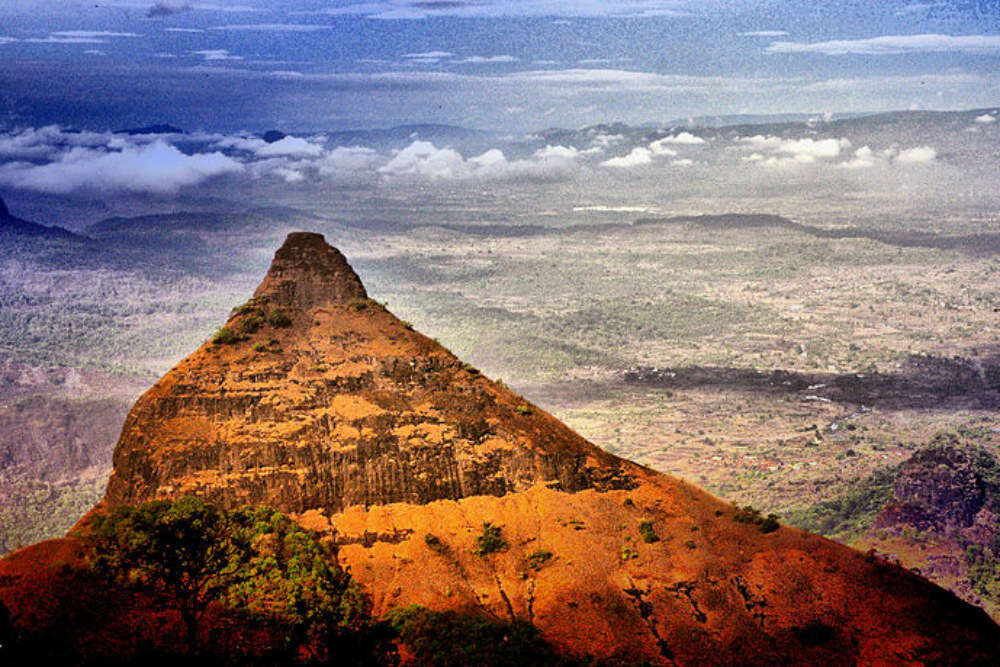 Tiger's Leap
Amazing cloudy weather, drizzles, and incredible cliff top view; that was, in short, Tiger's Leap for me. The cliff gets its name owing to its resemblance to a tiger jumping from a rock. I recommend it as a nice place to spend a few hours and have a family picnic or camping.

The majestic view of the Ghats and the rain-drenched lush vegetation is bound to usher a very positive vibe in your soul. I also took some time to walk around and explore the viewpoint from different angles. However, the weekends can be pretty crowded here. Also, nearby restaurants and cafes are not really cheap.

You can take a car to reach there. The road is curvy and can get slippery during monsoon. Hence, DRIVE SAFELY.
Lion's Point
This is undoubtedly one of the most beautiful
places to visit in Lonavala during the rainy season
. Whether you are a nature lover, or a trekking enthusiast, of a photographer, Lion's Point has something to offer you. I was welcomed at the place with the high-speed wind, coupled with candy-tuft clouds. But the weather improved after a few hours. However, I would remember the place more for being my first ever night trekking spot. I had a gala time riding camels, enjoying the mesmerizing sunset, and enjoying the spectacular view. The hot bhajis and tea made for the bonuses.
Lonavala also has something to offer to the history lovers.
Rajmachi Fort
The otherwise rustic Rajmachi dons a lush emerald coat during the monsoons. Bikers fail to resist the temptation to breathe in the spectacular view of the Western Ghats from here. Originated during the time of the Satavahana dynasty, it witnesses the struggles of Shivaji Maharaja and Aurangzeb. The British captured the fort after the downfall of the Marathas in 1818. Historically, the fort had a strategic location in between Khandala and Khopoli). It would control the activities of BorGhat, a historical trade route.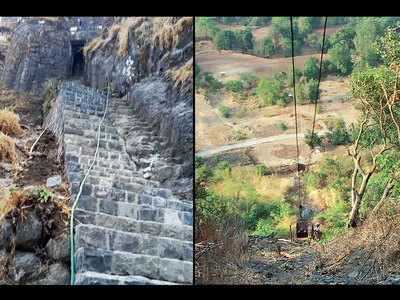 Tikona Fort
This hill fortress prides itself of heritage temples, large doorway, water tanks, stone wheels, and many more. For the nature lover, the ecstatic greenery and fresh air make for the right reason to visit here. Do not forget to munch some samosas, moongpakoras, and vadapao, and sip a cup of tea while the raindrops splatter here.